Join the celebration of our new social media channel, started 1 May 2018.
This promotion is for the first 50 requests received from 1 to 31 May 2018.
Get creative!
First, receive 2 Wedding Fans for free!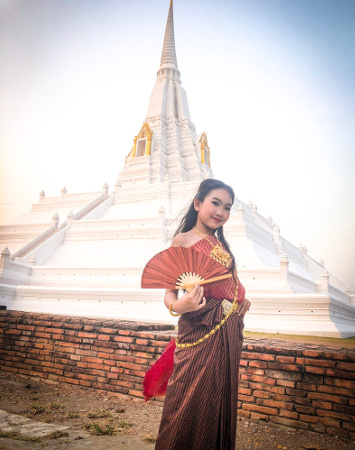 It's free, yet we do ask something in return!
After receiving the fans we ask you to take a creative photograph of yourself and one or both fans, and post it on your favorite social media page, with a reference to us, www.weddingfans.asia.
We may also ask your permission to post your creative photos on our own social media and our website's gallery page.
And ...  win a prize.
Grand Prize
The best three photo creators receive three hand umbrellas (yes: umbrellas) of their choice from the bamboo umbrella production at Chiang Mai Umbrellas - Mastercraft.
The question is really if you can improve on the examples shown here!
See here a uniquely elaborate example of the possibilities.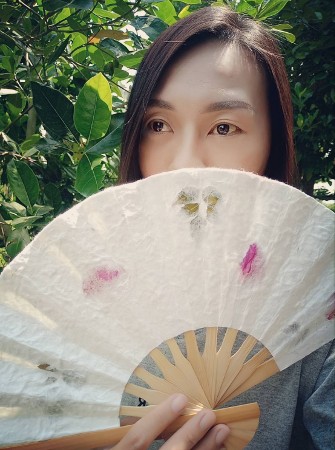 Some details:
1. You may request a specific cover material and a color from our line-up, while the actual free wedding fans depend on the availability of that material and color, and we reserve the right to add or not add a hand painting to the sample fans. So you might receive fans in cover material and color different  from your preference. These free sample wedding fans are not further personalized or customized.
2. These free sample wedding fans are produced and shipped within about 7 days of your request. Shipping is free, by postal air mail, which typically takes 7 to 14 days worldwide.
3. Consider making a wedding themed or partnership themed photo, but this is not strictly necessary. Place the photos on your social media page with a link to our website www.weddingfans.asia, and inform us where it is placed. We may link to your photo(s), and/or place them on our social media page and/or our own website gallery, with a mention back to you as the creator.
4. The three prize winners - that is 3 out of 50 - are chosen by the weddingfans.asia team and master craftswomen. We may take any number of visible likes or comments into account for our decision.
5. Our general service terms apply, reachable at the bottom of every page. The recipient is responsible if there are any importation requirements. We reserve the right to either shorten or lengthen the duration of this promotion, or make other changes as may be needed. In case of anything unclear about this promotion, we at weddingfans.asia make the final decision. We reserve the right to decline a request for whatever reasons we may have for doing so. We don't expect that to happen though.
So, if you like to receive two of our wedding fans for free and have the chance to win three exquisite bamboo hand umbrellas, make your request on our contact page, whatsapp or LINE - and don't wait, you want to be in the first 50 !
Find out about our > new social media channel established 1 May 2018.